Instructions for Poster Presenters
Poster presenters are requested to prepare their poster in 2 formats – a physical poster that they need to bring onsite in Barcelona, and an e-Poster in .pdf format. The poster presenters do not have to choose one of the formats, but need to prepare both. Detailed instructions on how to prepare your files are available below.
ABSTRACTS & POSTER INFORMATION
POSTER MOUNTING & DISMANTLING HOURS
Location: Poster Zone in the Exhibition & Networking Area (Hall 115-117)
Poster Mounting
Wednesday, 29 March                     16:00 – 18:00
Thursday, 30 March                          08:00 – 10:30
Poster Dismantling
Saturday, 01 April                              14:00 – 16:00
The organisers are not responsible for any posters that are not dismantled until the designated hour specified above.
POSTER PRESENTATION GUIDELINES
Participants should prepare their poster according to the following instructions:
Please prepare your poster on one sheet of cardboard. Alternatively presenters may display their material on several smaller sheets.
The dimensions of the poster should not exceed 90 cm wide x 120 cm high.
Allocate the top of the poster for the title and authors as stated on the submitted abstract.
The text, illustrations, etc. should be bold enough to be read from a distance of two meters (six feet).
Tacks and technical equipment will be available for the mounting of posters.
Please also refer to the Final Program for the poster number assigned to you (in case of poster updates). You will receive your poster number via email shortly before the Congress.
Please use the board with the same number.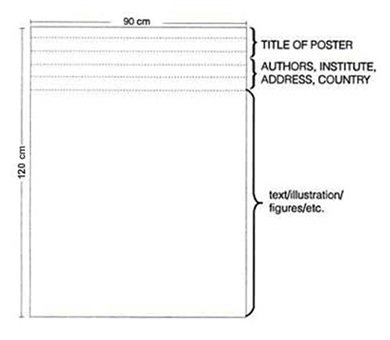 POSTER VIEWING & DISCUSSIONS
Poster viewings and discussions are held during the official program coffee and lunch breaks each day, as well as during the Welcome Reception.
Authors are kindly requested to stand by their poster to answer questions, however, you are also welcomed to leave a contact by the poster such as a business card, so that all delegates could contact you, should they have any questions or comments.
E-POSTER PRESENTATION GUIDELINES
Deadline for submission: 05 March 2023
You will receive an email with a dedicated link to upload your e-Poster in the end of January.
Participants should prepare their e-Poster according to the instructions below.
If you wish, you may use a template that can be downloaded here.
Alternatively, you can upload a vertical version of the e-Poster, however, we do not recommend that for technical reasons.
Language: All e-Posters should be prepared in English.
1 Page PDF file
File format: .PDF only.
File size less than 10 MB
E-Poster orientation: landscape
Font size: ≥11
Animated images and animations are not permitted for e-Posters and will be non-functioning.
When you insert Images Photos Tables Graphs please use simple copy-paste, and do not use embedded documents – the system does not support embedded files -audio or video
Please do not use symbols or special characters (ie. +/-@)
Please do not use headers and footers.