CCIB – Barcelona International Convention Centre
Enter via Entrance B for easiest access to the Registration desk and Congress halls.
Plaça de Willy Brandt, 11-14,
08019 Barcelona
+34 93 230 10 00
ccib.es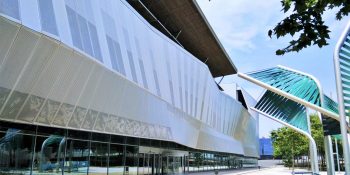 LANGUAGE
The official language of the Conference will be English. All abstract submissions and presentations should be in English.
VISA INFORMATION
Most European, US and Canadian citizens do not require an entry visa for Spain. Please consult the Spanish Embassy or Consulate nearest to you for specific details relating to visas. It is a responsibility of the participant to obtain a visa if required. For further information about visa types and requirements, please click here.
ACCESSIBILITY
Getting to Barcelona
Barcelona can be reached easily from across the country and abroad. To find more information on how to plan your visit, please click here.
Getting around Barcelona
Barcelona's public transport network is very well developed. The eight subway lines, various tram and bus lines will bring you quickly and reliably to your destination. For detailed information, please follow this link.
CLIMATE
Barcelona has a maritime Mediterranean climate. You can expect very pleasant weather during the day. In the end of March/ beginning of April the average maximum temperature lies around 19–20°C (66–68°F) and average minimum temperature is around 13–14°C (55–57°F).
Bring an umbrella just in case since there might be rains during this period. Plan on layering your clothes as during the day it is nice and warm, but sometimes it can be a bit chilly in the evening. With a water temperature of around 14.0°C (57.2°F), there is no need to bring swimwear.
LETTER OF INVITATION
If you require letter of Invitation, please note Invitation letters are available only to registered participants. The option to request an invitation letter is available within the registration process.
CURRENCY
The unit of currency in Spain is euro (EUR).
Most international credit cards are accepted.
You can compare your local currency to the euro HERE.
GUEST ATTENDANCE POLICY
All event activities (including educational sessions, meal functions, exhibit hall, etc.) are exclusively reserved for registered attendees. Non-registered guests (including children, family members, colleagues, etc.) are not allowed in any of the event areas. Badges provided at registration are required for entrance into all functions and will be strictly enforced.
LIABILITY AND INSURANCE
The Conference Secretariat and Organisers cannot accept liability for personal accidents or loss of/damage to private property of participants. Participants are advised to take out their own personal travel and health insurance for their trip.