WHAHC 2023 Presents: HaH Tеch Summit
The latest technological advancements are further enabling the development and scale of the Hospital at Home (HaH) model and thus deserve a special focus at WHAHC 2023.
To highlight this important topic, we will kick off WHAHC 2023 with our new HaH Tech Summit – a unique format dedicated to the latest advancements in Hospital at Home Technology. Leading experts from academia and industry will discuss opportunities to embed tech in HaH to help programs from around the world scale and reach highest quality and best patient/clinician experience. The Tech Summit will be open to all registered participants.
The Tech Summit is being chaired by Dr Jared Conley, Massachusetts General Hospital and Harvard Medical School, USA. The Tech Summit represents a collaborative effort with the Healthcare Transformation Lab (HTL) at Massachusetts General Hospital to advance the field of tech-enabled Hospital at Home.
HaH TECH SUMMIT PROGRAM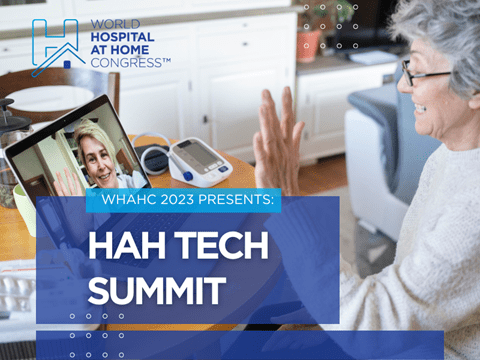 Thursday, 30 March   09:30 – 14:45
The Tech Summit will include a keynote address and panels on the following 4 main topics:
Tech Solutions to Enhance Identification / Enrollment of HaH Patients

Telemedicine in HaH: Optimizing Hybrid Remote and In-person Care

Leveraging Tech to Scale HaH Supply Chain Capabilities
Effectively Using Remote Patient Monitoring Technologies in HaH Care