Promotional & Advertising Opportunities
ADVERTISING SUPPORT OPPORTUNITIES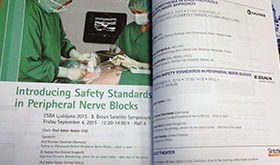 Full page color advertisement:
inside page / inside back page / spread page (different pricing) in designated section of the Final Program.
The Final Program will contain the timetable, information about the scientific Program and other useful information.​ It will be distr​ibuted to all registered participants in the Conference bags.​
The advertisement will be printed in the designated industry section of the program, according to compliance regulations.
Support will be acknowledged in the Industry Support and Exhibition section of the program guide, on the congress website and application, and with signage during the event.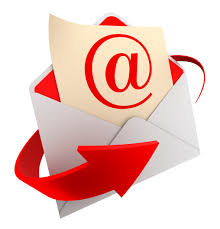 ​Gain additional exposure for your Symposium, company or exhibition booth by sending out a Mail Blast to the pre-registered delegates who have agreed to receive promotional material, at a date and time coordinated with the Congress Organizer.
Exclusive: Mail blast will be exclusive for the supporting company. The designed mail blast (html format with Kenes design requirements) and the preferred "Subject" to be provided by the Supporter and subject to receipt by 6 weeks prior to the Congress. ​"From" field will be

Congress Acronym + Year .

Joint: Mail blast will be shared with other supporting companies. Supporting company should provide the content for the mail blast following Kenes design requirements. Design of mail blast will be done by Kenes/Organizer.
* In the case where the supporter cannot provide a  compliant HTML file, they may provide one pdf/ image, that will be embedded into the congress designed mailshot for an additional charge of $ 250. Content received after the deadline may be processed for an additional fee of $500.
An example to a joint e-mail: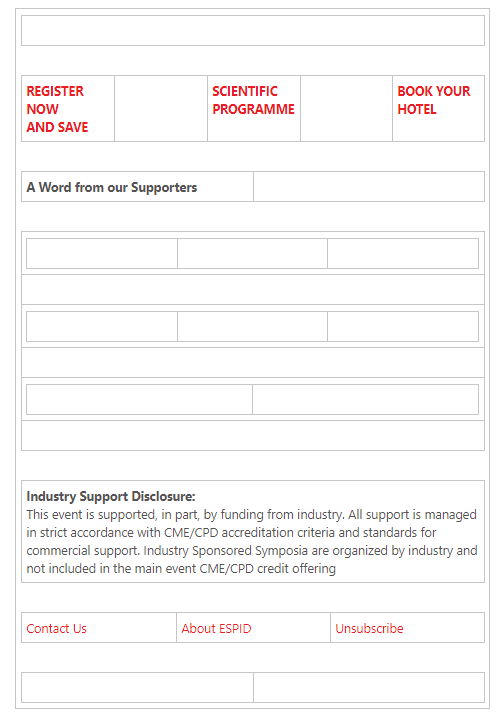 Please note that it is the Exhibitors'/ Supporters' responsibility to comply with the local authority's regulations, EFPIA (European Federation of Pharmaceuticals Industries & Associations) www.efpia.org, Medtech Europe (represents Medical Technology industry) http://www.medtecheurope.org/ and IFPMA (International Federation of Pharmaceutical Manufacturers & Associations) www.ifpma.org Code of Practice on the promotion of medicines.  Failure to comply with these regulations may not be used as a ground to declare the contract void.  Failure to comply with the rules and regulations will not expose the Organizer to any suits, demands by the Exhibitor/Supporter or any other third party.
SPECIAL REQUESTS
Tailored packages can be arranged to suit your objectives. Please do not hesitate to contact the Support and Exhibition Sales Department to discuss your needs.
ACKNOWLEDGEMENTS
Support will be recognized in the Industry Support and Exhibition section of the programme, on the event website,  mobile application and with signage during the event.