The World Hospital at Home Congress (WHAHC 2023) will provide a platform that enables high-level discussions, and pushes forward meaningful research to advance the Hospital at Home model.
To enhance your experience and ability to connect with colleagues, we encourage you to share information about the congress and your participation on social media – before and during WHAHC 2023. You can gain new followers and connect with colleagues worldwide!
Make sure to follow the WHAHC social media channels for real-time congress updates:
Hashtag
The official hashtag for WHAHC 2023 is #WHAHC23. Make sure to use the hashtag when tweeting to be part of the discussion.
Using #WHAHC23 in your social media posts will increase your visibility. Everyone following #WHAHC23 will be able to see your posts.
Social media effects
Try out the WHAHC effects on Facebook, Instagram, and TikTok. Use them to share your best photos and videos from the congress.
Here's how to use the TikTok filter:
Here's how to use the Instagram filter: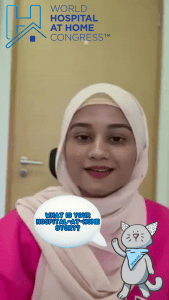 What to share
Live share from sessions, meetings, and the exhibition. Be sure to mention our social media accounts and use the hashtag #WHAHC23.
Repost, like, comment, or share live coverage coming from our Twitter, Facebook, LinkedIn, Instagram and/or TikTok accounts.
Share your pictures and videos in stories using the hashtag #WHAHC23.
How to share
Share your experiences.
Use the below images to post to your channels, or update your cover photo, and help spread the word.

(Click on an image, then right-click to save or copy the image.)
Getting Started
You want to join the conversation. But are you on social media yet? Wondering where to start or what to do?
Our detailed guide below will help you follow the trending discussions related to #WHAHC23 across all platforms.